Online Resources
Internal Resources
Internal resources can only be accessed from inside the Self-Help Center.
Related Links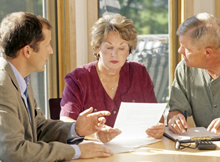 The Self Help Center is located on the first floor of the Merced Courthouse and the first floor of the Los Banos Courthouse. Please check the table below for dates and times of operation.
There is a team of paralegals and an attorney available to assist you with the following case types:
Landlord/Tenant (Unlawful Detainer or Eviction)
Domestic Violence
Family Law
Name Change
Guardianship of a Minor
Civil Harassment
Small Claims
Emancipation
Restraining Orders
You can also receive assistance with completing your forms online and e-filing your documents. Customers are seen on a first come, first serve basis as time allows. You must come in person to receive assistance with your matter.
Computers are available for public use to complete your forms online, e-filing and looking up your case information. Forms and self-help materials are available on this web site, see the 'Related Links' section list on the left side of this page.